Meet The Candidates from Colonial Heights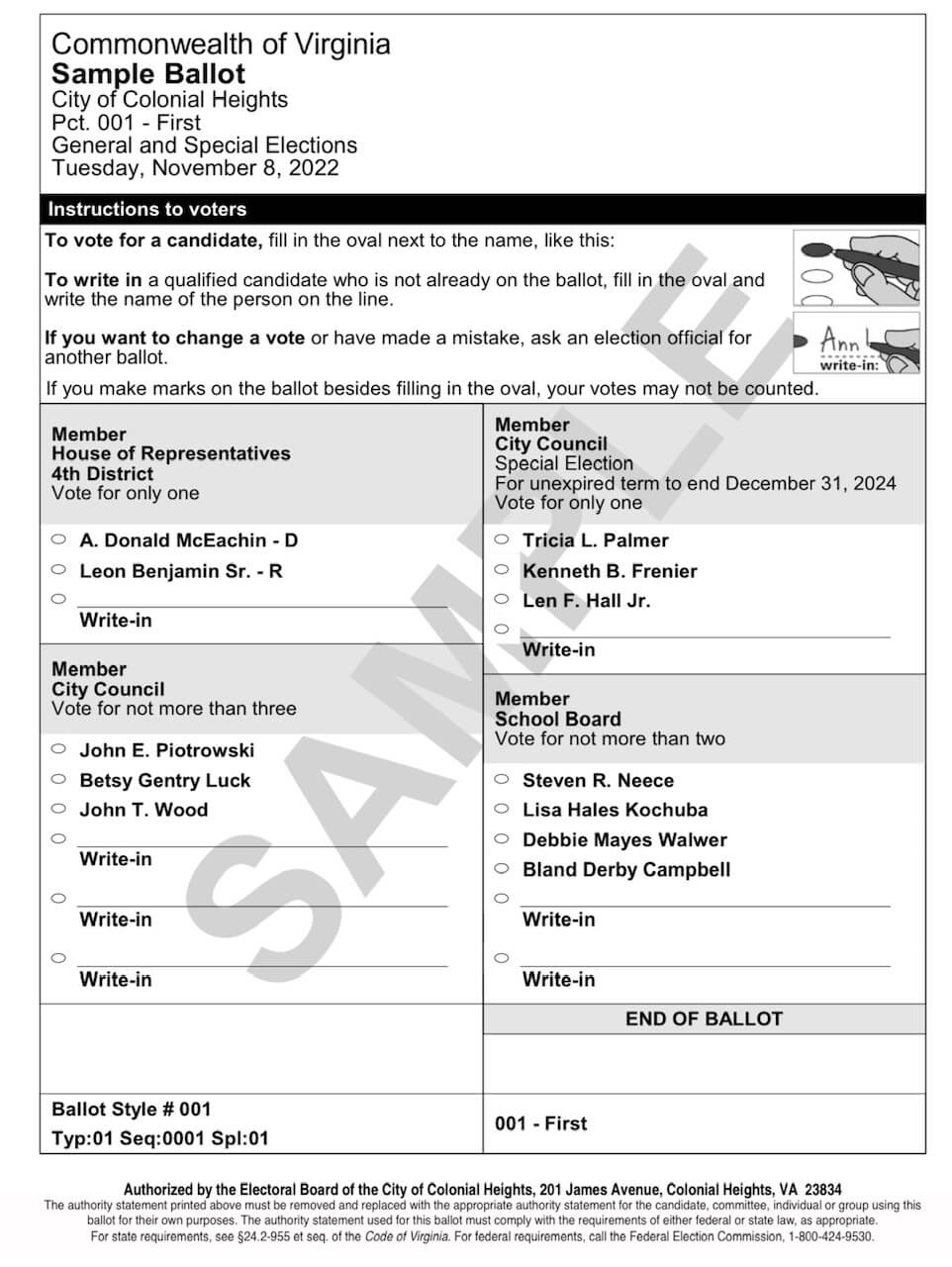 Contested City Council Seat(Vote for 1)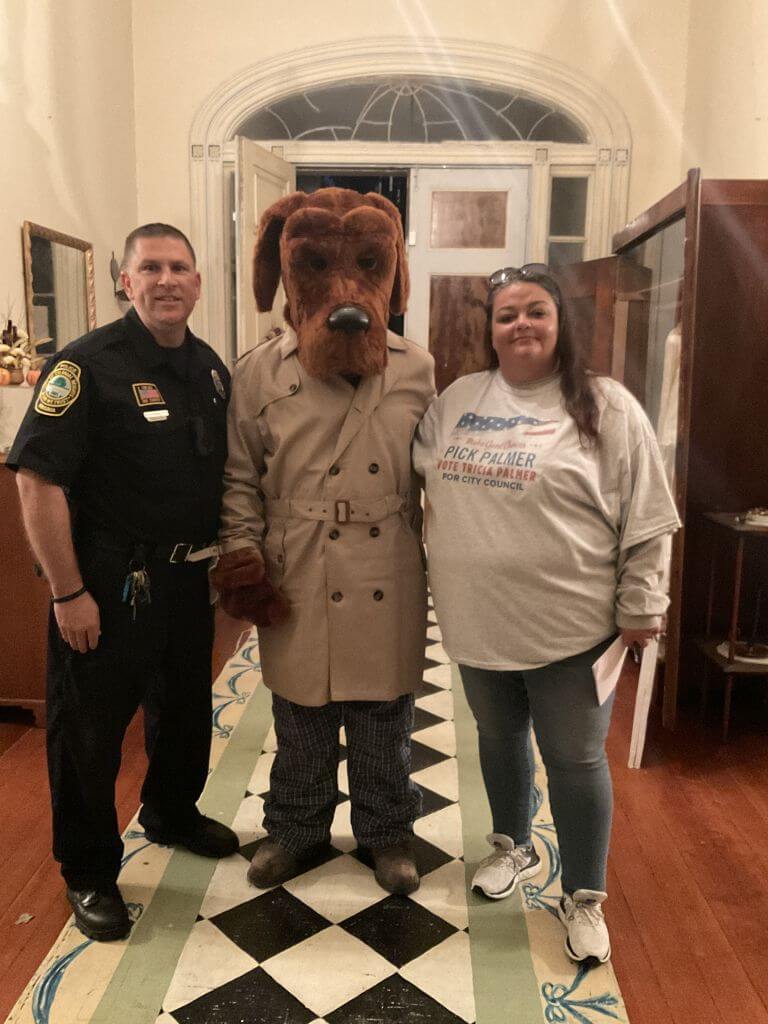 Tricia Palmer
Hi, I'm Tricia Palmer! I am 43 years old and have been married to my
husband, Mark, for 20 years. Together we have 5 children, 3 of whom graduated from Colonial Heights High School. I have owned and operated a successful small business in Colonial Heights for the last 9 years. Having been raised in this city, I have always tried to do my part in giving back to the community whenever possible. This has included serving on the board for the Colonial Heights Band Boosters as Vice-President for three years, and as President for two; volunteering with the Colonial Heights Soccer Association as a coach for ten years and Director of Coaches for four; being a member and immediate Past President of the Colonial Heights Kiwanis Club; and on the Southern Virginia Chamber of Commerce for six years where I now serve on the Executive Board.
I love Colonial Heights and the citizens in it. Our city has so much to offer, but COVID and other economic factors have caused significant changes to the world around us in recent years. It's more important now than ever that City Council focuses on making appropriate, educated decisions that will help us continue to evolve and grow in a positive direction. The commercial vacancy rate in the City is currently at 8%. I feel there are strong, value-added options that can help improve our standings and help turn us into a more positive direction. As a member of City Council, bringing in new businesses that will promote sustainable growth for Colonial Heights would be one of one of my main goals.
Every day when my children would leave for school, I would tell them I loved them and yell, "make good choices." It stuck, and I say it to this day as they leave for work, or to my employees as they head out for the day. It's a family motto that I know a lot of us can relate to. We set out each day to "make good choices" with our finances, our employment, our friendships, and our households.
On November 8th, I hope you will make the smart, educated, good choice to vote for me, Tricia Palmer for City Council.
Paid for by Tricia Palmer for City Council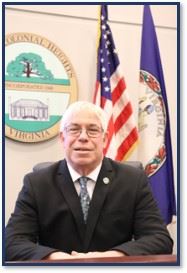 Kenny Frenier
enny Frenier BIO
Cell:  804-720-4522
E-Mail:  frenierk@colonialheightsva.gov
Kenny Frenier served on the Colonial Heights City Council from January 2009 to December 2021.  Upon the resignation of Councilman Mike Cherry, Council appointed Kenny Frenier to serve on Council until a special election could be held in November 2022.  I also serve on the City's Transportation Safety Commission.  I enjoy helping people with problems they may have and steering them to the right person for their problem.  I do not make promises because it takes a majority vote to accomplish anything that involves taxpayer's funds.  I bring to the table a strong background in Public Safety with 49 years of service ..

I began volunteering for the Fire Department in 1973 and became a Charter Member of the Fire Department Cadets Program in 1974. Shortly after I joined the Volunteer Fire Department, I was hired as a full-time Fire Fighter in 1979.   He was promoted to Captain in 1996 and promoted again to Battalion Chief in 2000 where he served until his retirement in August 2007. He currently works part-time at the Fire Department as a Logistics Officer.

In my spare time, I teach for the VAVRS, (Virginia Association of Volunteer Rescue Squads, INC.).  I am a Volunteer for Capital Region American Red Cross and Volunteers for Colonial Heights Fire & EMS.

Some of the highlights of his career have been receiving the Volunteer Fire Fighter of the Year in 1978; Jaycees Young Citizen of the Year in 1979; Volunteer Fire Fighter of the Decade in 1989; and receiving his Paramedic certification in 1997.  His most recent accomplishment in 2018 was being inducted as a Life Member into the Virginia Association of Volunteer Rescue Squad (VAVRS) and was also recognized by the American Red Cross for his volunteer rescue efforts.

My community service includes Charter Member of Local 3612 Professional Fire Fighter's Union; American Red Cross volunteer; Active Life Member of Colonial Heights Volunteer Fire & EMS; Member of Sons of American Legion Post 284; and the Virginia Association of Volunteer Rescue Squads.  I worked for VDOT for 3 years before I Came to work for the Fire Department.

I am a member of New Jerusalem Baptist Church of Hopewell where he serves as Trustee and Treasurer and is married to Harriet Miller Frenier. They have three children, Jennifer, Justin and Dale, and seven grandchildren.

I look forward to your support either by early voting or voting at your precinct on November 8, 2022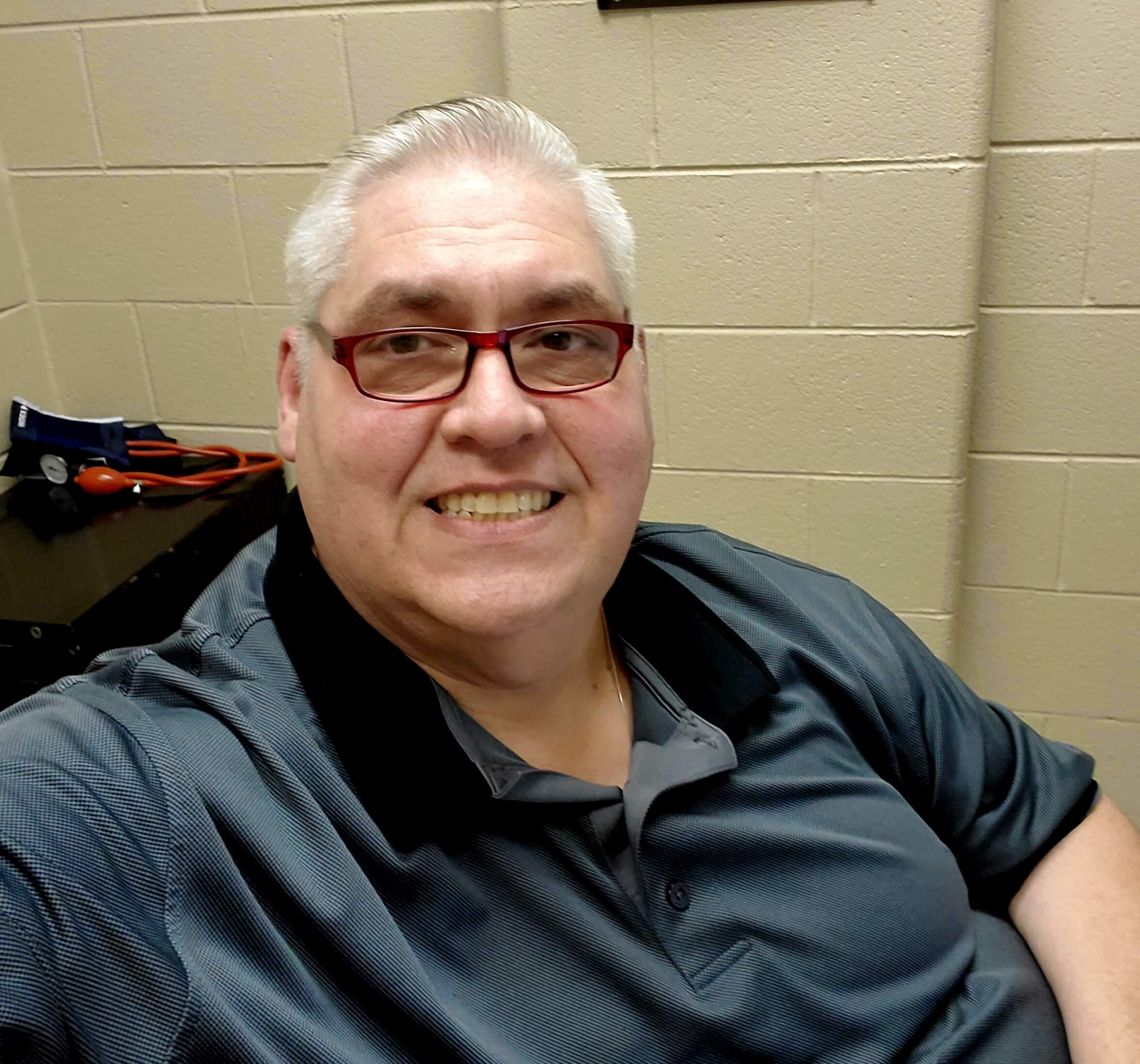 Len F. Hall
I'm a life member at Colonial Heights Fire Department after 20 + years of service , I worked as a Volunteer firefighter, Paramedic and as a Lieutenant for the city, I have worked as a Registered Nurse leader at several local medical facilities for a total of about 20 + years , I currently work at a Chesterfield Jail as a Health Service Administrator, I'm and active member of Life Church, I'm an ordained Minister with Global Christian Ministries.I want to give back to the community by bringing my skills as a people person to give the great citizens of Colonial Heights a voice within the city council, I'm a great communicator and want work alongside the community and community leaders to make our city #1 again, I want the concerns of the citizens to be my concerns . I want the city to have a great economy and be a place everyone is happy and want them to be life long residents of our city . I want Colonial Heights to be a place where people will want to come visit our many historical sites and restaurants and places of worship . I want new small businesses to be welcomed to Colonial Heights with open arms. I want Colonial Heights to be the center for all of the state in economic and cultural development.
School Board Seats(Vote for 2)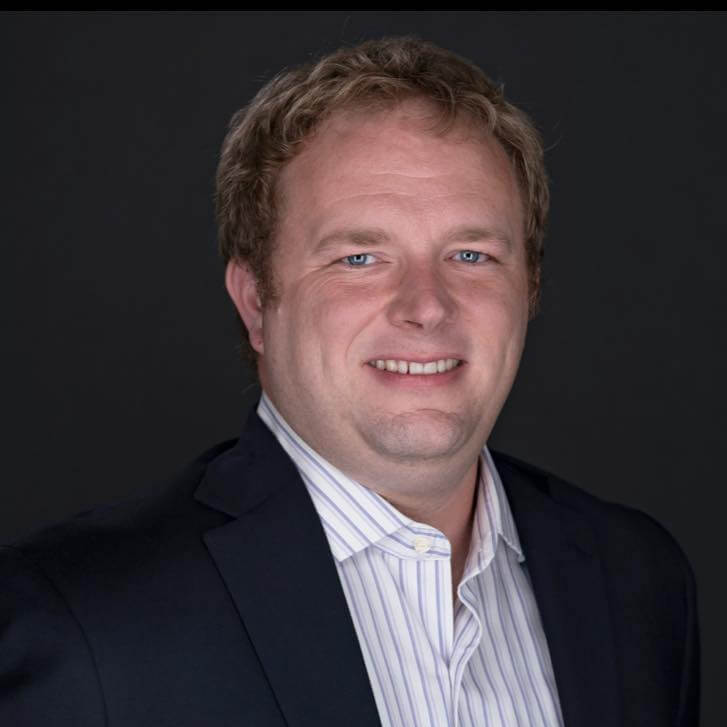 Steven R Neece
I am a 33-year resident of Colonial Heights who grew up going to school here from Tussing in 3rd Grade through graduation from CHHS.  I attended the University of Virginia graduating with a degree in Systems Engineering and Economics and later returned to school there for my Master's in Business Administration.  I have worked at Capital One for the past 20 years, where I have had leadership positions and learned how to manage improvements across diverse areas while working with budget constraints.
My family is the primary reason that I am running for the school board.  My wife has worked in the schools since 2004 and is now teaching 5th grade at Tussing.  My oldest daughter is a recent graduate of CHHS and my two younger daughters attend Tussing.  The school system is a very important part of our lives.
With my daughters being very active in different activities, and my wife being a teacher, I hear a lot from other teachers and parents about our schools.  I have been attending nearly all school board meetings since August of 2020.  Listening to those meetings, I realized that I could give a voice to not only my family, but all of the families in the community that I interact with regularly.
If elected, I would like to improve our schools for students, staff, parents, and our broader community.  I want to push for more opportunities for our students partnering with nearby schools and community colleges.  I plan to make sure we provide our staff strong support and provide competitive pay and benefits.  I want to encourage parental involvement in our schools.  I also will work with City Council and departments to coordinate on programs for our children.  We can achieve the best for our children by all working together.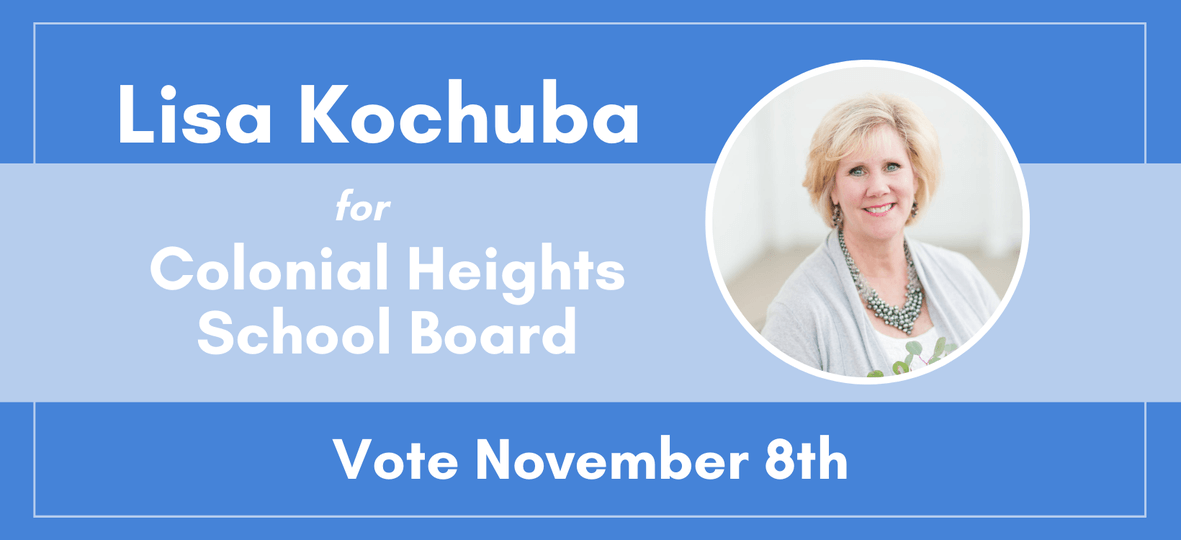 Lisa Hales Kochuba
As a lifelong resident of Colonial Heights, I attended and graduated from Colonial Heights Public Schools. I graduated from the University of Virginia with a BS in psychology and a minor in early childhood education. I'm married to Greg Kochuba and we have three married children, all of whom attended Colonial Heights Schools, and three precious grandchildren.
For the past 20+ years, I have held several positions within the Colonial Heights school system, to include classroom instruction and family resource support. I have served as acting chairman of the Special Education Advisory Committee, and served as a member of the Juvenile Domestic Violence Task Force and the Southside Trauma Informed Community Network. On a state level, I have served on the Virginia Department of Education's Family Engagement Network, which is a collaborative group working toward achieving better educational and mental health outcomes for Virginia students and their families. I currently serve on the operating board of ChildSavers, a nonprofit which focuses on childhood development and mental health support.
In our local community, I served as the co-founder and director of Women of Worth, a mentoring program for middle school girls. I served on the board of directors and the personnel committee for Mount Pleasant Baptist Church as well as Youth Council and the Women's Ministry Leadership Team. I also had the joy of serving as a Girl Scout troop leader for thirteen years in the Colonial Heights community.
I'm a gardening enthusiast and opened a floral design business in 2014, along with my daughter Katie. I enjoy volunteering, traveling, event planning, and spending time with my family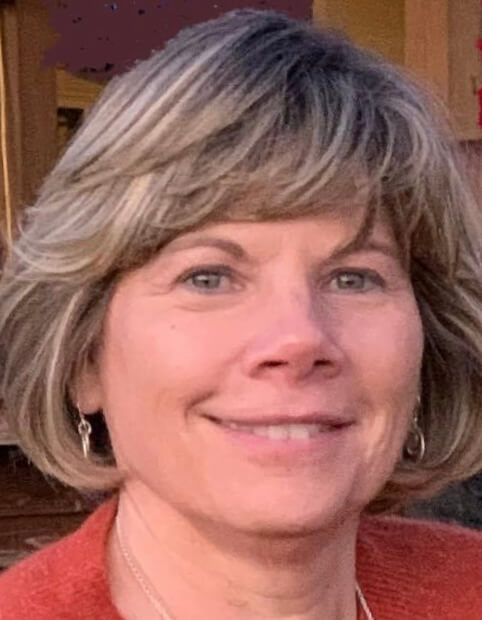 Debbie Mayes Walwer
I have resided in Colonial Heights for 54 years.
After graduating from Colonial Heights High School I attended Longwood University and graduated with a BS degree in Elementary Education in 1978. I taught in Dinwiddie County from 1978-1979, I transferred to the Colonial Heights School system in 1979. I taught fourth and fifth grade at Lakeview Elementary School from 1979-2005. I served as the Summer School Administrator and interned at the School Administration Office from 2003-2005. I completed my MS degree in Curriculum and Instruction with a focus on Instructional Technology at Capella University in 2005. I served as the Instructional Technology Coach For Colonial Heights Public Schools from 2005-2016. I trained teachers to use technology for teaching and learning. I retired from Colonial Heights Public Schools in July, 2021.
I currently work as an adjunct instructor for Virginia Commonwealth University's Department of Teaching and Learning. I've completed VCU's Clinical Faculty training program to become a University-Based Educator.
Last year was my first year as a retired educator and I've missed the involvement in education. I've been searching for a way to stay involved in education, and this drove my decision to run for a seat on the Colonial Heights School Board in the November election.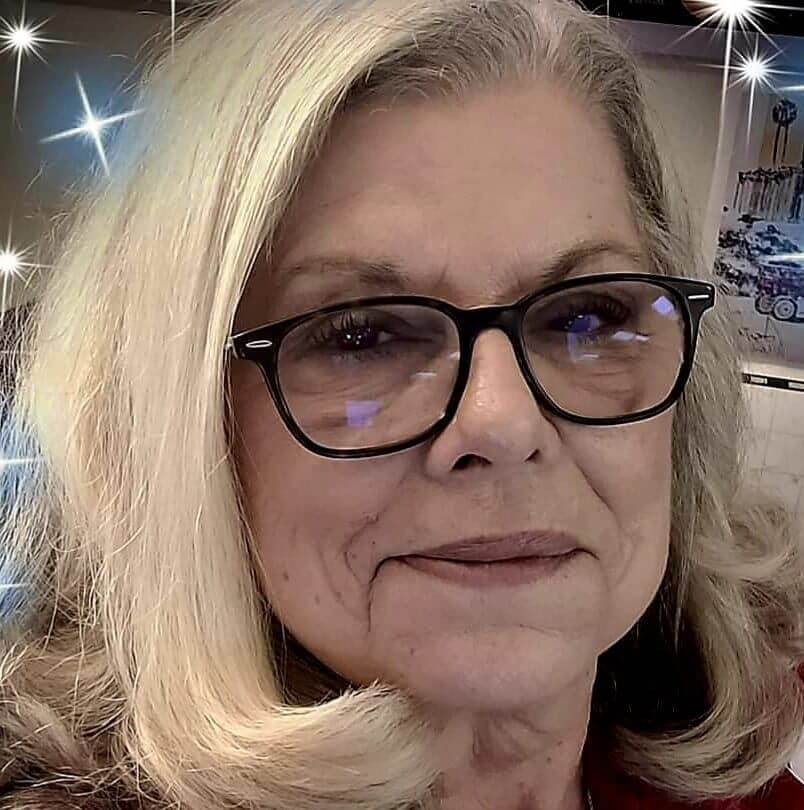 Bland Derby Campbell
For the past twenty years, I've been teaching for Richmond Public Schools, Colonial Heights Public Schools, and Life Christian Academy. I currently serve on the CH Youth Services Commission, I'm an active member of the community, and I stay informed about the issues and policies facing the CH School Board and local government. Current tensions between parents, school boards, and teachers are threatening the quality and excellence of a Virginia education. Students deserve an education that equips them with means to seize opportunities and achieve the American dream. Parents deserve transparency and choice in their children's education. Quality teachers deserve support and recognition for their value and impact. We must bring our students higher, rather than lowering the bar. We must go back to basics!
If elected I will support:
-Parents' rights
-Transparency
-Rigorous academics for all
-Preparation for career or college
-Ensuring a safe and nurturing learning environment
-Fiscally responsible decisions
Uncontested City Council(Vote For 3)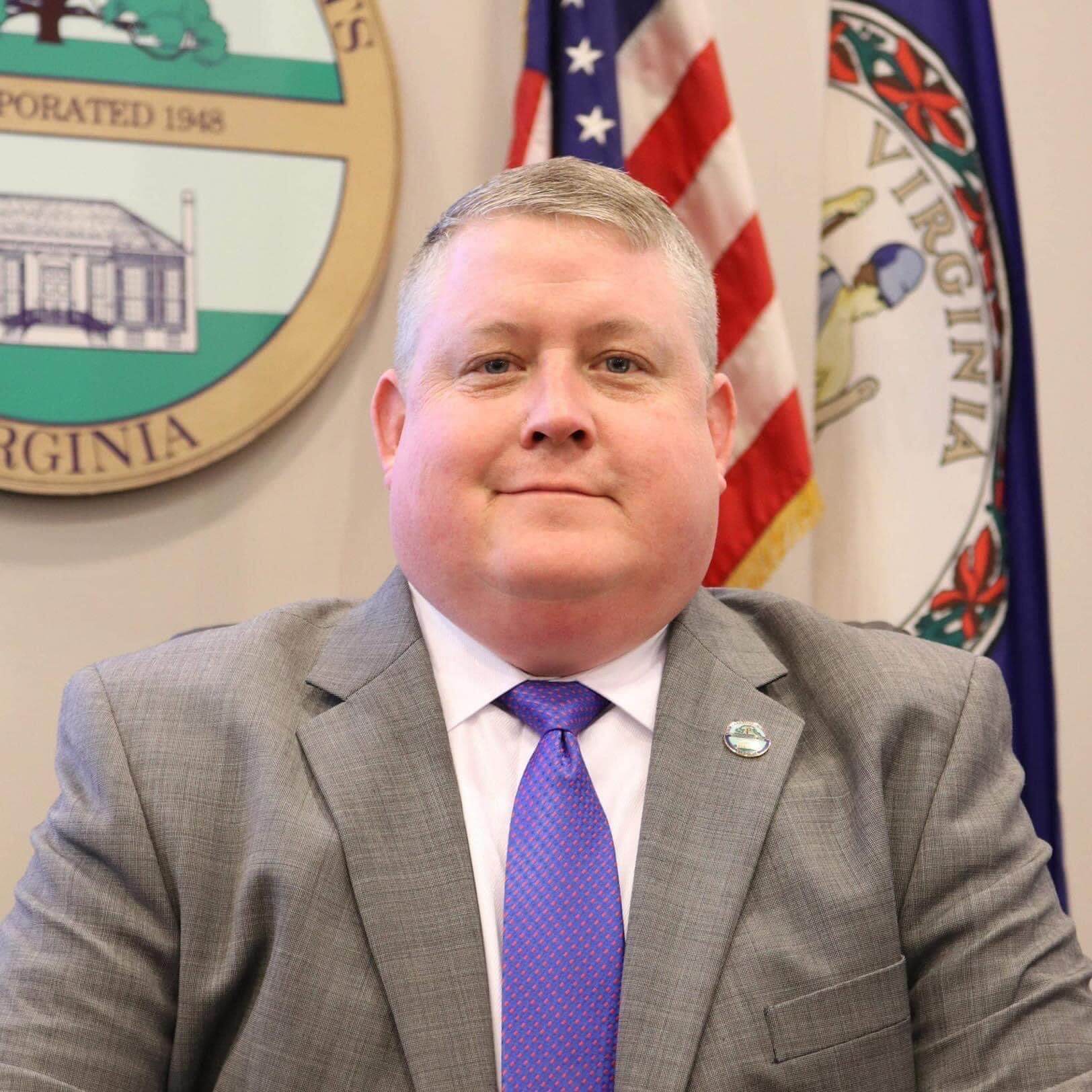 John E Piotrowski
John E. Piotrowski is a lifetime resident of Colonial Heights, he is the son of Paul and Dianne Piotrowski.  He graduated from Colonial Heights High School Class of 2001 and John Tyler Community College.  John has an Associate of Applied Science Degree in Funeral Service. He is a  Manager and Licensed Funeral Director with E. Alvin Small Funeral Homes and Crematory in Colonial Heights and Petersburg. John was elected to  the Colonial Heights City Council on November 4, 2014 and November 6,  2018.
He is married to Margie Anne Piotrowski. John and Margie are the owners and operators of Discovery World Day Care Center in Colonial Heights. They have two daughters, Sara Elizabeth Piotrowski, a student at Colonial Heights Middle School and Katherine Anne Piotrowski, a student at Tussing Elementary School.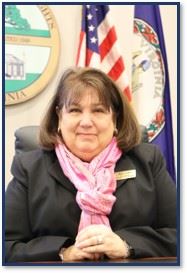 Betsy Gentry Luck
My name is Betsy Gentry Luck.  I've lived in Colonial Heights my entire life.  I am married to Hugh Luck and we raised our two children, Brandon (39) and Jessie (35) here.  Below are some bullets about my civic and community experiences.
Colonial Heights City Council 2000 – 2012, and 2015 - present
   Vice-Mayor, 2008-2012 and 2016 - present
Youth Services Board
Historical Commission
Senior Citizens Advisory Board
Human Development & Education Policy Steering Committee (State VML)
Colonial Heights Education Foundation
Colonial Heights School Board
1993-1998
Chairman 1996-1998
Vice-Chairman 1995-1996
Retired Elementary Teacher 1980-2015
Lifelong citizen of Colonial Heights
Chesterfield County/Colonial Heights Social Services Board representative
Chairman 2019-2021
Member of Wesley United Methodist Church 1985 - present
I consider myself responsive, dedicated and experienced.  If anyone has any questions or concerns, I'd be happy to listen.  My number is (804) 720-2061 or e mail:  BetsyLuck1@aol.com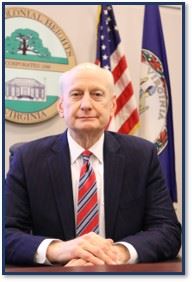 John T Wood
Personal injury and serious traffic offense trial lawyer actively practicing in courts throughout Virginia since 1977. Veteran trial attorney experienced in representing injured persons and motorists charged with driving while under the influence of alcohol and drugs, driving on suspended and revoked operators' licenses and reckless driving. Current practice emphasis on defending impaired and intoxicated drivers cited with driving under the influence of alcohol and driving with the influence of alcohol.
Former two-term mayor and council member of the Colonial Heights City Council, serving from 2002 to present. Former two-term vice mayor and council member of the Colonial Heights City Council, serving from 1984 to 2000.
Current chairman, former vice chairman and member of the Crater Planning District Commission 2002 to present, serving the cities of Petersburg, Colonial Heights, Hopewell and Emporia and the counties of Chesterfield, Dinwiddie, Prince George, Greensville, Surrey, Sussex and Charles City. Commission is responsible for the development, promotion and execution of regional transportation and infrastructure projects with local, state and federal funds, primarily to enhance economic and workforce growth. Actively engaged in 2005 BRAC process to protect and expand Fort Lee and Defense General Supply facilities.
Current member and former vice-chairman of the Tri-Cities Area Metropolitan Planning Organization 2002 to present serving the cities of Petersburg, Colonial Heights, and Hopewell and the counties of Chesterfield, Dinwiddie and Prince George. Commission responsible for development, promotion and allocation of CMAQ and RSTP funds for regional transportation and infrastructure projects.
Current 2014 member and former two-term member of the Virginia Municipal League General Laws Policy Committee responsible for determining policies and issues of importance to Virginia municipalities to assist and affect General Assembly legislation.
Former member of the Colonial Heights Senior Citizens Committee, engaged in developing and implementing programs to serve the elderly, retired, and older handicapped citizens.
Former member of the Colonial Heights Commission on Youth engaged in developing and implementing programs to serve minors, students and at-risk youth.
Primary legislative accomplishments since 2002:
Initiated two successful real estate tax rate reductions;
Initiated successful acquisition of 3.2 acres of real property upon which the city's new courthouse complex was constructed in 2013;
Obtained 2.3 million dollars of non city funds to construct I-95 northbound ramp from Temple Avenue;
Obtained more than two million dollars of non city funds to upgrade and widen the Boulevard, Dupuy and Lakeview Avenues;
Initiated and successfully implemented the youth escort policy at the city's regional Southpark Mall;
Proposed and successfully guided acquisition of 12 acres of real property on Archer Avenue for creation of riverside Appamatuck Park; and
Led opposition and successfully stopped excessive and unnecessary apartment development in the city.